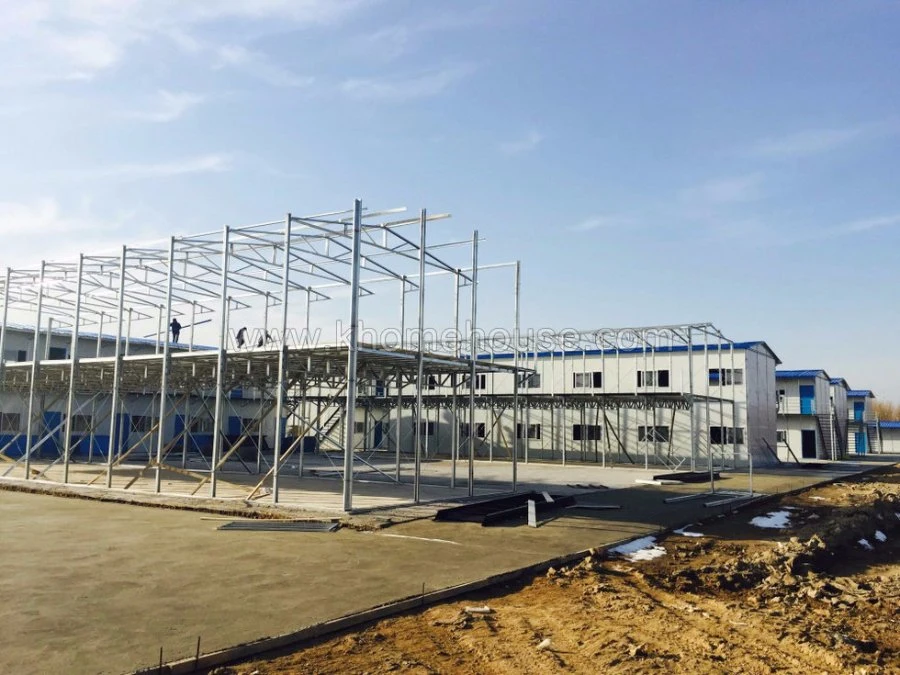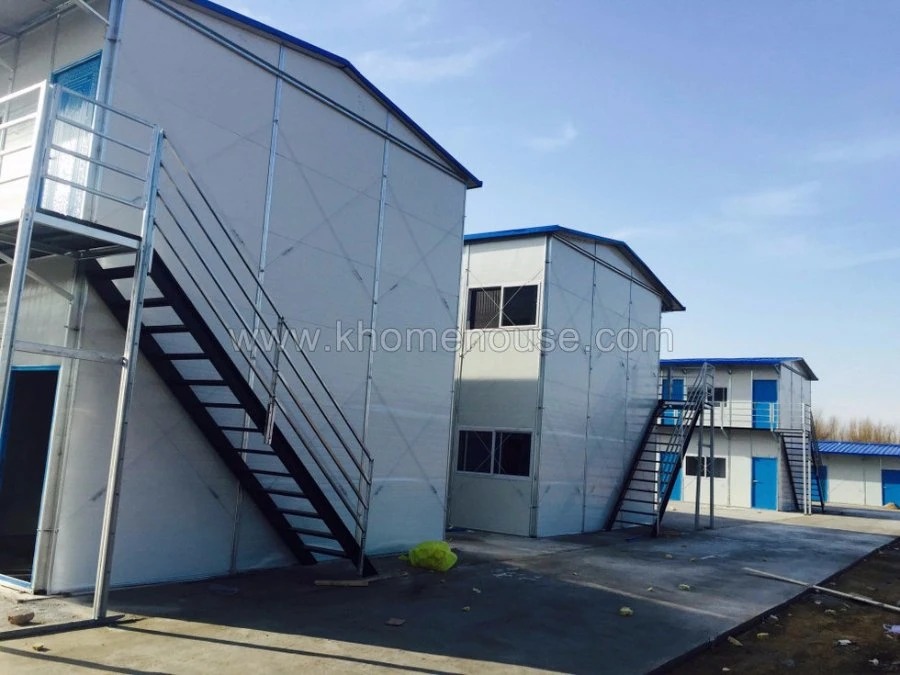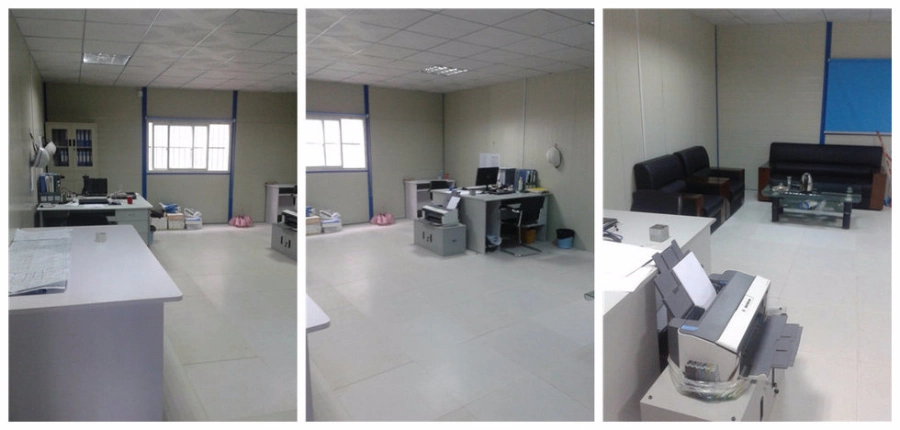 Steel Structure Modular Prefabricate Multi Story School
The steel structure modular prefabricate multi story school is made of light steel as steel structure and sandwich panels for wall and roof. The insulation of sandwich panel can be polystyrene, polyurethane, rock wool and fiber glass. As a standardized construction product, it has below main features: no construction garbage caused; Environment protective materials adopted, repeated use and low cost; Flexible size and easy to assemble and disassemble with elegant appearance; Safe and durable .It is suitable for temporary buildings such as dormitory, canteen, recreation room, washing room, etc...

Main Steel Structure: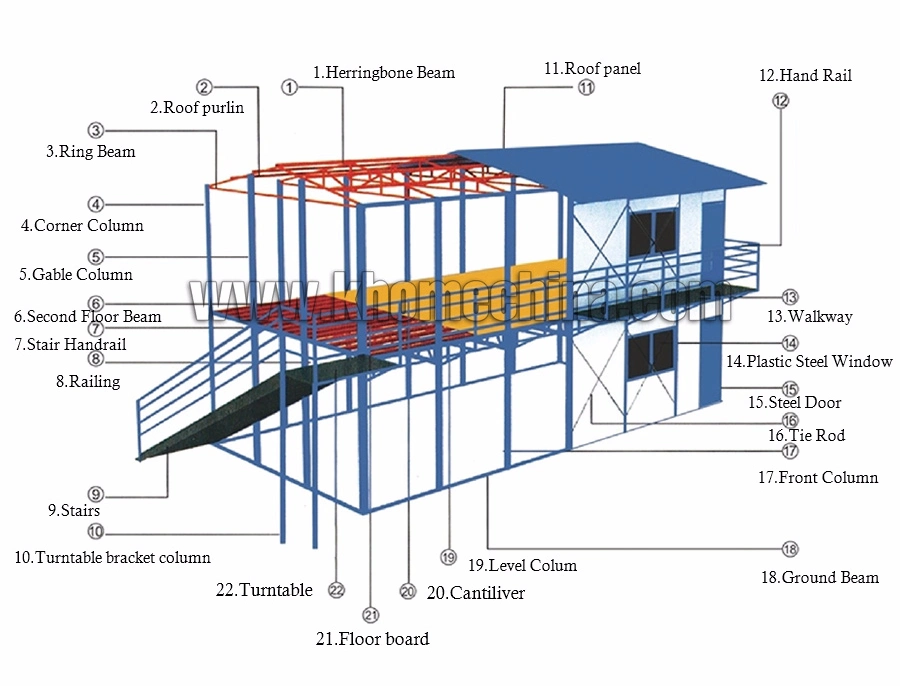 No.
Width
Length
Height
1
3K
nK
3P
6P
9P
2
4K
nK
3P
6P
9P
3
5K
nK
3P
6P
Note : K = 1820mm, P = 950mm n can be customized

Technical Parameter of standard Prefabricated Building:
1. Wind resistance: Grade 11(wind speed≤111.5km/h)
2. Earthquake resistance: Grade 7
3. Live load capacity of roofing: 0.5kn/m2
3. External and internal wall heat transmission coefficient: 0.35Kcal/m2hc
4. First floor load capacity: 150 kg/m2
5. Live load of corridor is 2.0kn/ m2
6. Four skilled workers can finish installation of 100sqm in 8 hours for the light steel structure.
7. Most components of the house are recycled, so the shelf life is over 20 years without any building garbage.
8. We can design and produce the house according to customer's request.
9. We can provide the service of installation, supervision and training by extra.

Steel Structure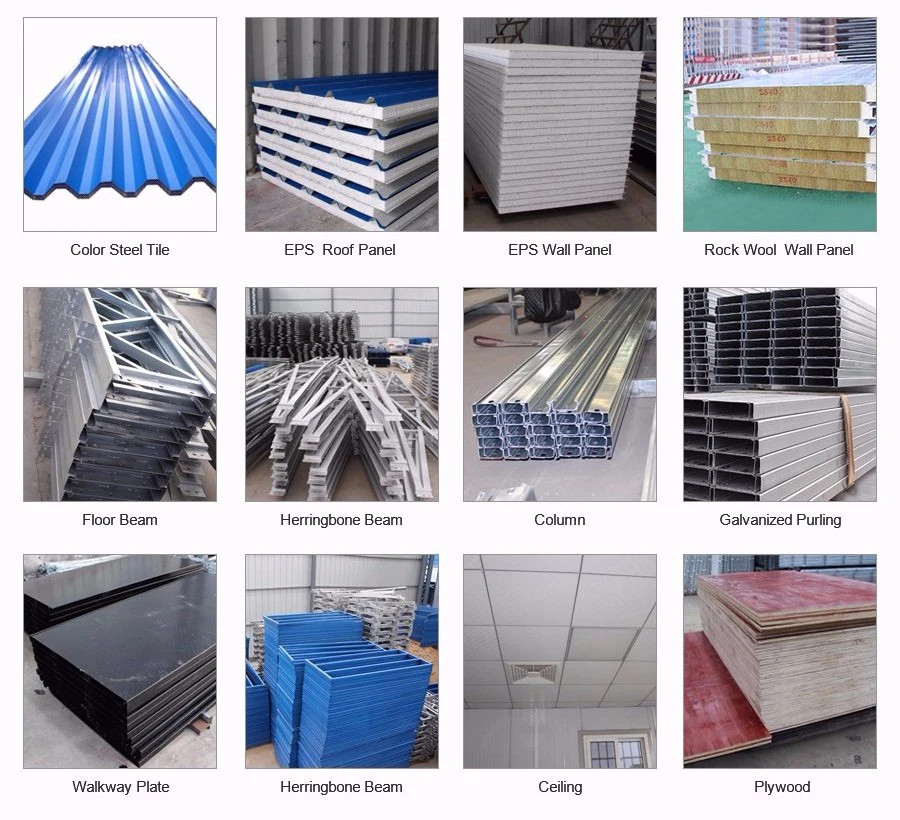 Steel Structure
1.1
Steel column
120x120x2.5
1.2
Steel structure beam
C120x50x20x2.0
1.3
Roofing Purlin
C140x50x20x2.0
Steel Structure
1.4
Wall Purlin
C120x50x20x2.0
1.5
Anchor Bolts
M16
1.6
Ordinary Bolts
4.8S, Galvanized
Roof and Wall
2.1
Roofing-PU board
Or Fiber glass board or EPS panel
100mm,40kg, 0.5/0.5mm, heather transfer≤0.021w/mk, anti press≥210Kpa;
OR
100mm,60kg, 0.5/0.5mm, heat transfer≤0.028w/mk, anti press≥180Kpa
2.2
Ceiling upon the door
100mm,40kg, 0.5/0.5mm, heather transfer≤0.021w/mk, anti press≥210Kpa;
OR
100mm,60kg, 0.5/0.5mm, heat transfer≤0.028w/mk, anti press≥180Kpa
2.3
Exterior wall-PU board
OR
Rockwool board or EPS panel
100mm,40kg, 0.5/0.5mm, heather transfer≤0.021w/mk, anti press≥210Kpa;
OR
100mm,60kg, 0.5/0.5mm, heat
Installation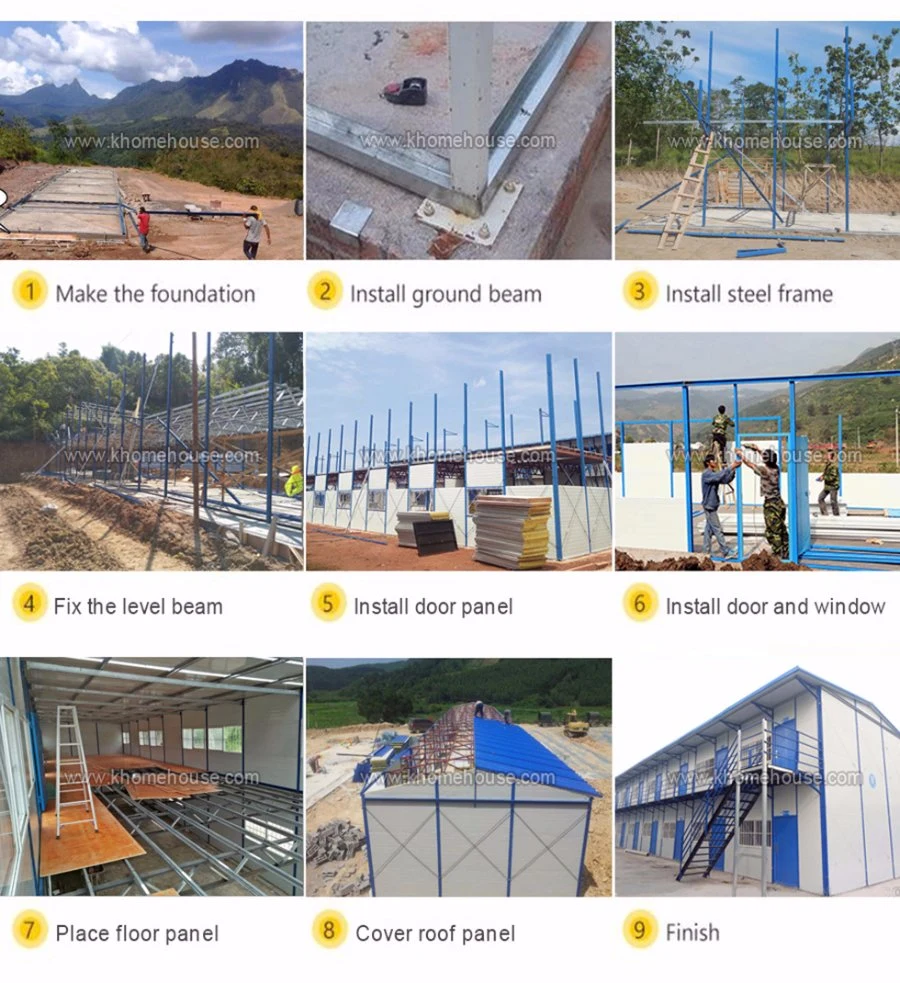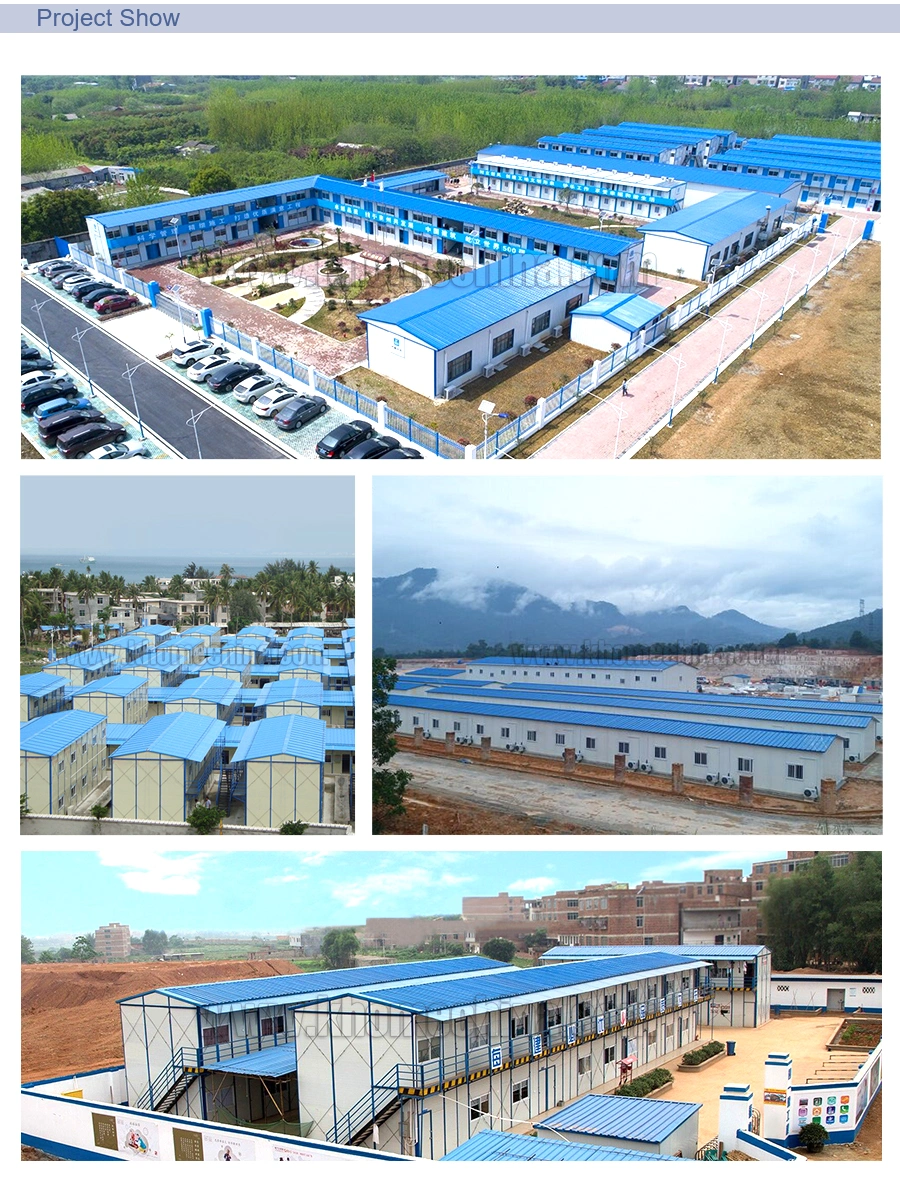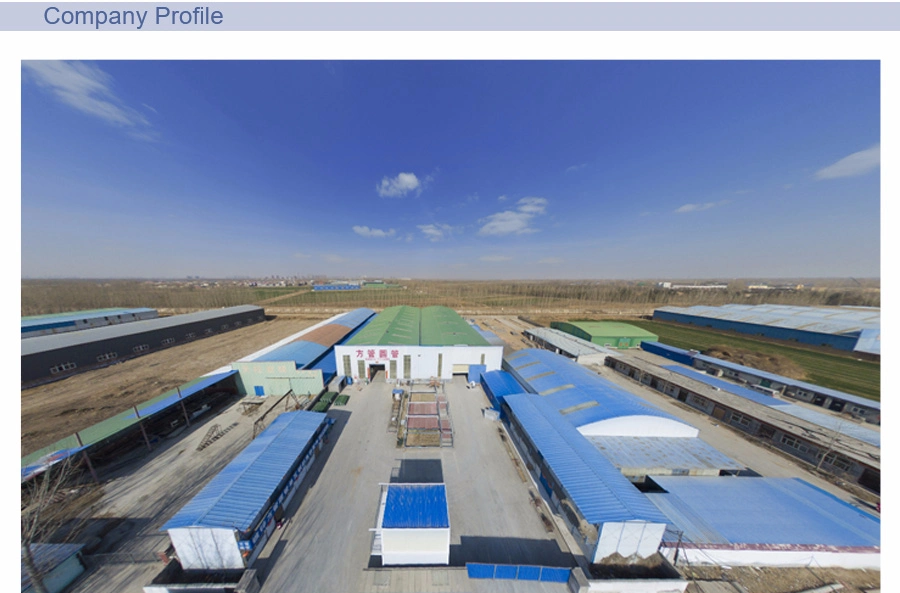 Henan K-home Steel Structure Co.,Ltd is located in Xinxiang, Henan Province. It is a self operating private enterprise, established in the year of 2007,registered capital RMB 20 million, cover an area of 100,000.00 square meters with 260 employees. We are engaged in design, project budget, fabrication, installation of steel structure and sandwich panels with second-grade general contracting qualification. Our main products covered sandwich panels, OEM prefab house, container house, construction material, light steel structure house, light steel villa, non-standard design house, steel structure projects, and installation service.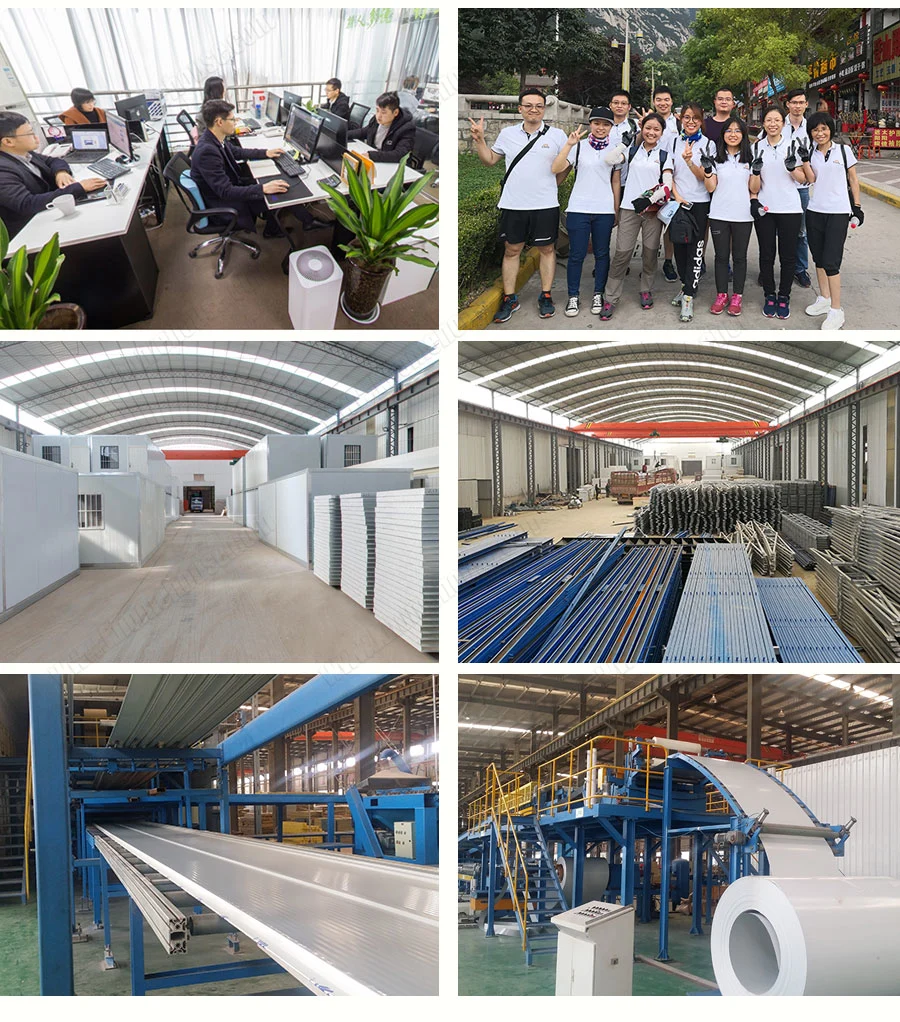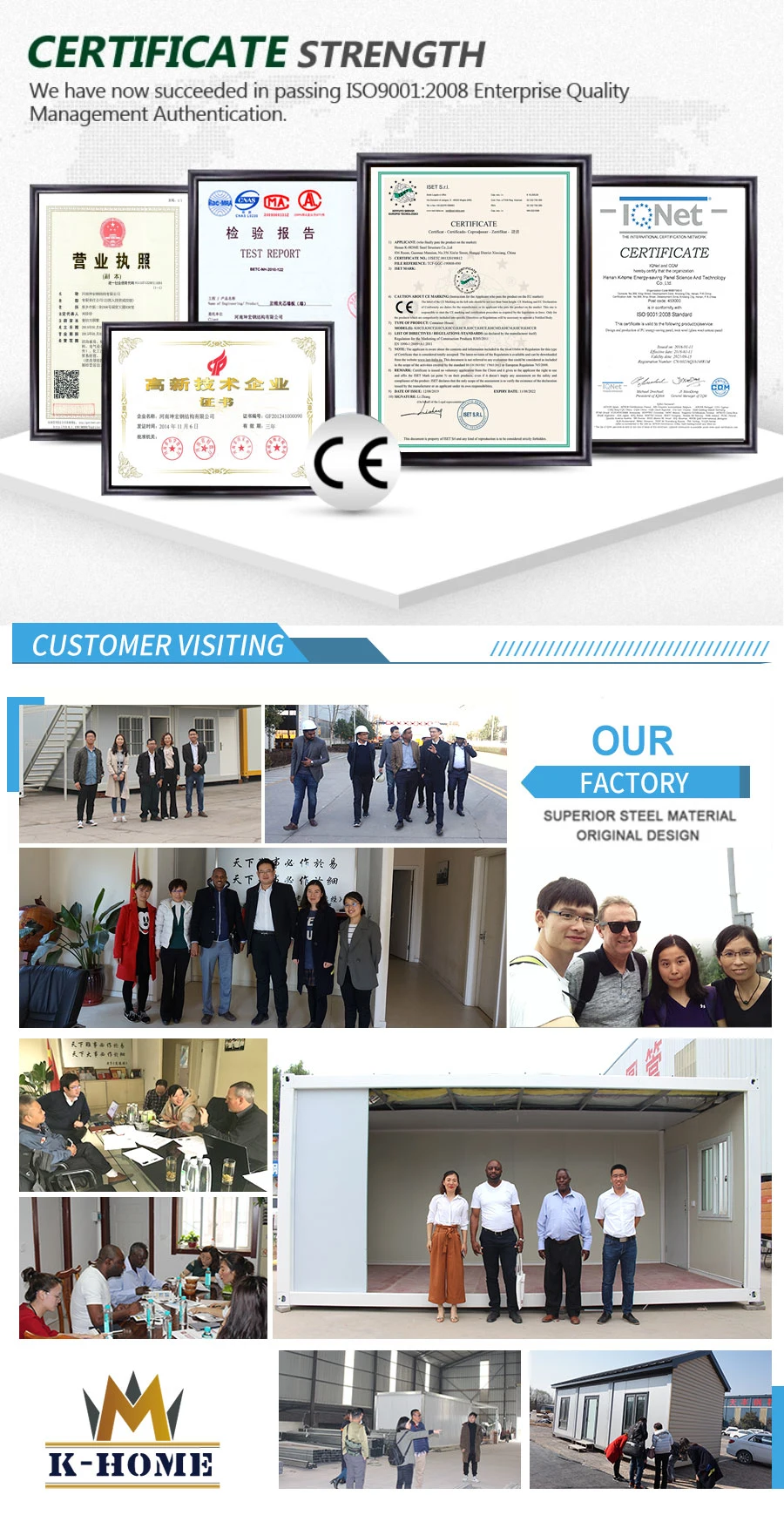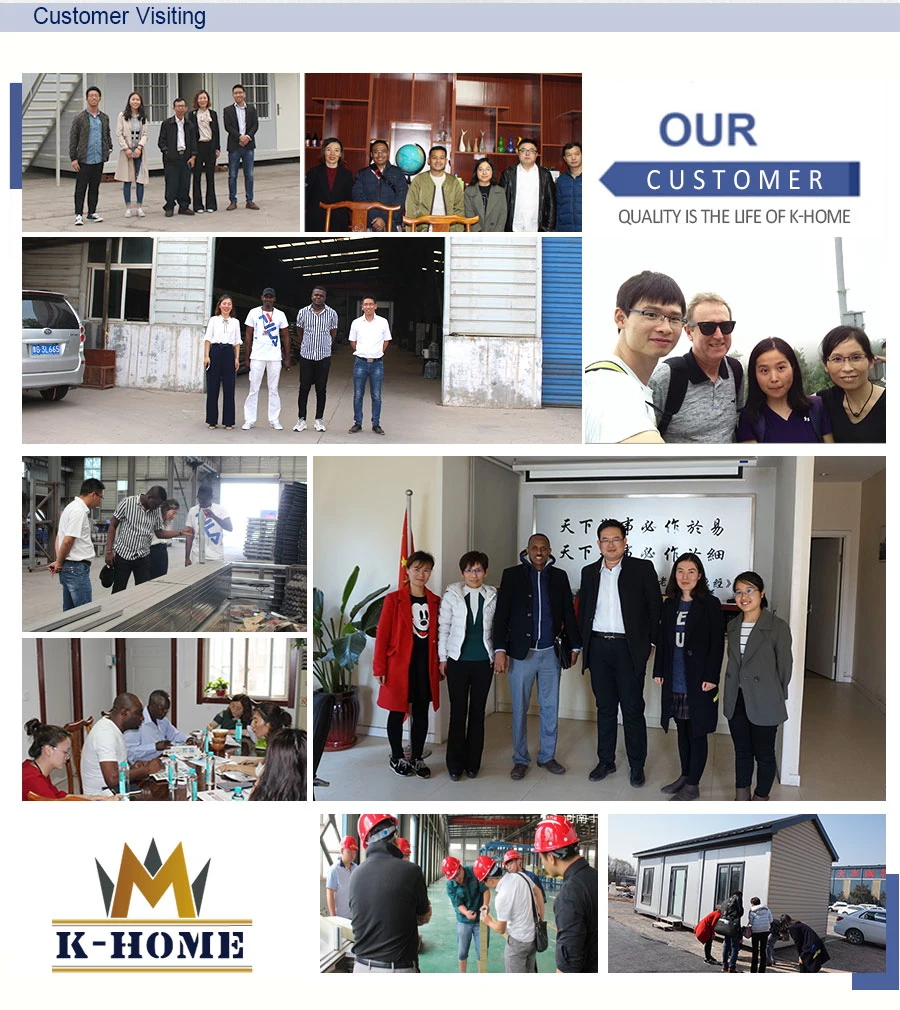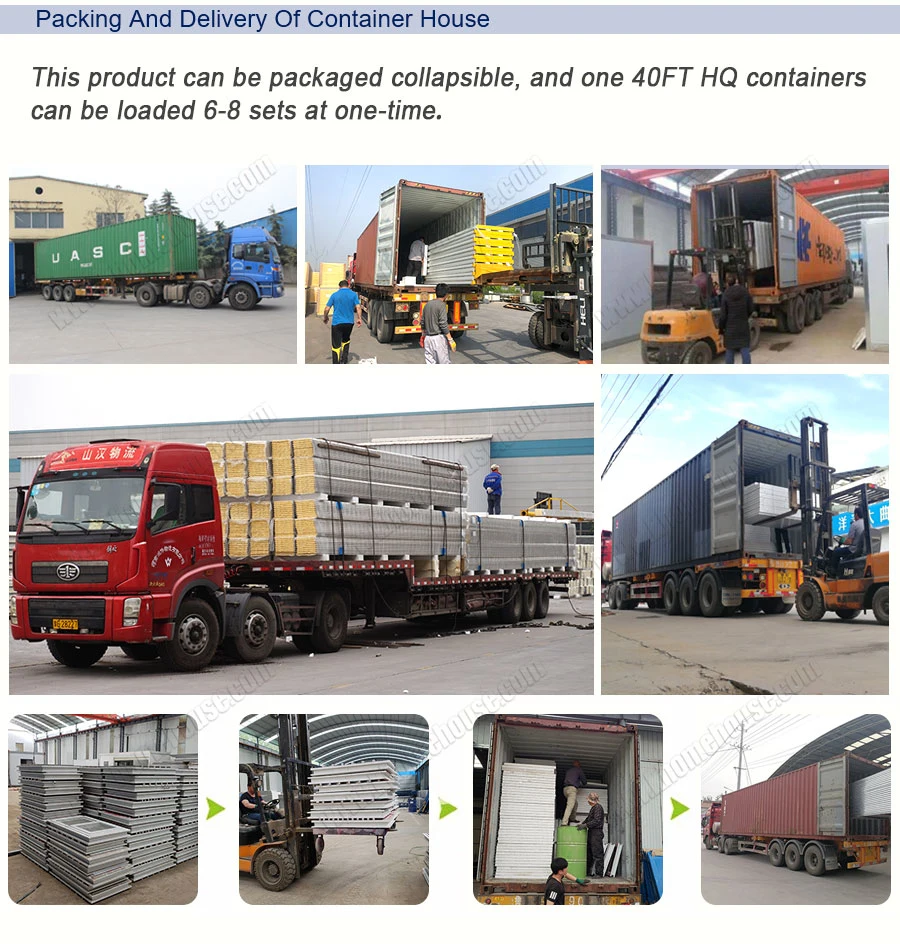 FAQ?
Q1. What products do you offer?
A1. We focus on prefabricated houses, such as labor camp, container house, steel structure warehouse, modular villa for more than 12years.

Q2. What is your payment term?
A2. Our payment term : for standard products 30% deposite, the banlance should be paid before delivery. for Customized products, will depend on the design.

Q3. What is your MOQ (minimum order quantity) ?
A3. for standard products, we don't have MOQ quantity.

Q4. How is your after-sales service?
A4. 1. 24 hours available after-sales service.
2. For the installation, we will offer installation drawing and videos, if any questions we can reply in time. We can also can send our engineer to guide local workers, but you have to charge the double ticket, accommodation, food and salary.

Q5. What information should we offer before you quote?
A5. 1.you have the drawing, pls give us and tell us the material you use.
2. If no drawing, pls tell us the usage and the size of the house, then we design for you with the good price.